Need a quick, easy Corned Beef recipe for your Irish celebrations tomorrow? Look no further...
Slow Cooker Corned Beef
3-4 pound beef brisket, spice packet included
1 -12oz beer (or chicken broth, although I highly recommend the beer)
5-6 whole cloves of garlic
3-4 cups of roughly chopped vegetables (we use potatoes, carrots, onion, chopped cabbage and celery)
Place all the items in the slow cooker. Cook on low for 7-10 hours.
That's it folks, it's that easy.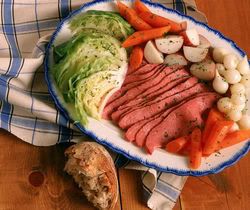 The rest of our meals this week:
Slow Cooker Chicken Paprikash
Sloppy Joes with Fried Okra
Shrimp and Artichoke Pasta
and probably some sort of Corned Beef Hash...
Happy St. Patty's Day!
SPC