After doing this blog bit for a few years, many of our family favorite recipes have already been shared. But after delivering barbecue feasts, including our family's famous baked beans, to a few friends who have had either a new baby or surgery in the last several weeks, and getting thank you notes that said, "the flavors were so amazing," and "the beans were delicious!" I looked on the recipe index and realized I had yet to post this recipe.
Shame on me for waiting this long to share the Sweet Pea Family's Baked Beans. Every time I make this recipe, someone asks me for it. I try to be humble, but these are the best darn baked beans I have ever made, tasted or shared.
You can omit the bacon to make them vegetarian, and they still taste pretty good. But if you are a carnivore, the bacon makes these sublime. They are even hearty enough to be a stand alone leftover lunch meal; in fact R took these beans twice for lunch last week!
The Best Barbecued Baked Beans
1 medium onion, chopped
4 sliced bacon, chopped
2 - 15 ounce cans black beans, drained and rinsed*
2- 15 ounce cans Great Northern Beans, drained and rinsed*
1 cup barbecue sauce
1 cup ketchup
1/2 cup molasses
1/4 cup brown sugar
1 tablespoon soy sauce
In a large stock pot over medium heat, cook the onion and bacon until the bacon is crispy, about 5 or so minutes.
Add the remaining ingredients and stir well.
Increase temperature of the stove top to bring to a boil, stirring occasionally. Reduce heat to low and simmer for 15 minutes.
Serves 8 as a side dish.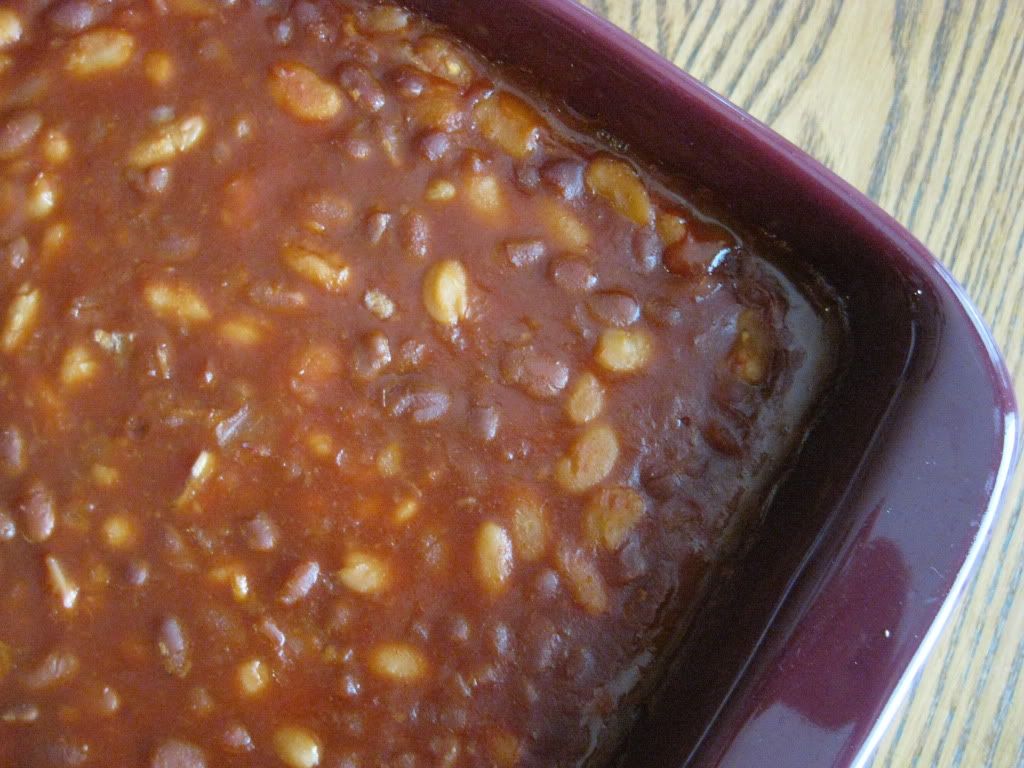 *Really, you can use about 4-6 cans of any combination of beans you desire. I have used kidney and chili beans too.
Have a sweet weekend!
SPC